Week 26 The Geekway Episode
[embed]http://traffic.libsyn.com/wdyptwbra/Geekway_Wrap_up_Final.mp3[/embed]
So, I pulled up to the Sheraton Lakeside Chalet at around 10:30 am on Thursday morning. Amazing after attending only two years you immediately start recognizing the regulars as soon as you walk in the doorway. I headed straight to the registration area to pick up my badge and check out the new setup. One of the perks for registering and attending Geekway to the West is that through the fantastic sponsor support, every attendee receives a free game. This year I picked up Marvel Dice Masters Uncanny X-Men. After saying hello and checking out the new registration digs, I wandered over to the new Play and Win room to see just how it was set up this year. Previously the Play and Win games were just set on a side of the library and you just checked the game out and took it with you to play wherever you found a table to play. This year, the play and win games had their own room, with over half the games already set up on the tables ready for players to tackle. The other half of the room was a small library of more copies of the play and win titles. Those, like in previous years, could be checked out and played anywhere that you wanted to play. The great thing about the Play and Win titles is that after you play the game, or teach the game, the players fill out a card with everyone's name on it and they are registered to win that game at the end of the convention. This year I believe the sponsors and staff added over 200 total games that were given away. Once again, as in the previous, I was shut out of the Play and Win giveaways, but unlike most previous years, I really didn't get to play many of the Play and Win titles.
After scanning the room, I spotted Charles Hasegawa and Robert Bolan starting up a game of String Railways with Justing Heimburger and John Lindley. After some introductions, I joined them at the table for my first game of the convention. String Railways is an interesting take on the train game genre. The game consists of some colored strings, some VP tokens and some station tiles, it's really a small box game. There is a mountain string laid out in the middle of the play area, along with a string that represents a river that can be crossed. Players set their starting station tiles and the game commences. On a player's turn they draw a tile and play a string from one of their stations to another station in an effort to create a network. The stations that you connect can earn you victory points or maybe even cost an opponent a point or two. The game ends after every player has played their five strings, so after five rounds. The most Victory Points wins the game. If it weren't for a couple of us being jerks to Robert, I would have taken last place in my first game of the con, but as it was I squeaked out a second to last place finish. Scores were really tight with Charles winning with 38 points and Robert bringing in last playce with 30 points. But like I said, Robert got picked on the entire game due to owning a station that took points from him each time someone went through it and that station happened to be in a fairly busy area. The scores could have easily been flip flopped. String Railways, will end up in our collection at some point, either that or I should try to find a way to pick up a copy of String Safari, which takes the same general game play and puts a wildlife theme on it, that may appeal more to my family than railroads.
String Railways
Just a section of the fantastic Geekway Library, courtesy of Marshall Jansen
After String Railways, we scoured the fantastic Geekway library for our next game and that turned out to be Yedo even though none of us had ever even played it. Learning games in a loud environment is not one of my strong suits, so I was more than happy when Charles grabbed the rulebook to learn it and teach. Yedo isn't a complicated game by any means, complexity wise it's probably a step up from Lords of Waterdeep, mostly due to the addition of the auction mechaninc and rotating a moving a policeman who can end up arresting and removing one of your workers. After a bit of rules wrestling we were off and running, well, Justin was running, the rest of us kind just puttered along. Justin ended up winning with 35 points, and I came in 10 points back in second place. Myself and Robert had one more quest that was ready to complete on the last turn but the area that we needed, The Harbor, was closed due to an event flipped before the turn started. I don't think it would have been enough to win, but it would have made the scores a bit more respectable. I really enjoyed Yedo, although I'm not sure how it would fly for my family as it can be a bit combative, but it definitely jumped up onto my radar. I probably should have bought the ding and dent copy that I saw at Miniature Market last year that was 75% off. The board itself is really busy, but once you know what the board is trying to accomplish, what it wants you to do, it becomes far more intuitive. Really well done game.
Yedo
After Yedo, I checked into my room and grabbed a sandwich. One thing I do when going to a convention like this is I do tend to pack food for my lunches and breakfasts so I don't have to leave to go get lunch, also it helps to budget the money, after all, who wants to spend money on food when you're at a convention, we'd rather buy games, right? As I was finishing up moving my stuff and eating lunch, Charles starts messaging me to hurry up as they were setting up for a six player game of Star Realms. Not being a person who misses a chance to play Star Realms, I hustled back to the table to claim my spot.
Star Realms is a head to head deck builder. With six players it's still head to head for four of the players, at least at the start of the match. Two "Emperors" sit at opposite ends of the table and each "Emperor" has two other players on their team. The other players sit across from each other with them competing head to head against the player opposite of them. When one of them is eliminated they can then start attacking the opposing "Emperor". The entire time that they are going head to head, the "Emperors" are playing as well and choosing who to attack. It makes for some fun game play. First two matches went the way of myself, Justin and Mike Selby, but with Charles as the "Emperor" the opposing team of Charles, Robert and Matt Dimmic pulled out the victory. It really is a fun way to play Star Realms and has me thinking of getting a couple more starter boxes in order to have enough starter cards to keep an Emperor set on hand just in case I get the opportunity to play again.
I would like to take a moment to say that my biggest regret of the entire Geekway to the West convention was playing those previous two games on one of the fantastic tables from boardgametables.com. Now I keep thinking that I need one of those in our gaming area at home. The really were pretty fantastic and a nice addition to the main Geekway play area. There wasn't a time that I walked by that there wasn't something being played on them. So kudos to Chad DeShon and his fantastic team, those tables were really awesome and they have me saving up some money to possibly pick one up in the future!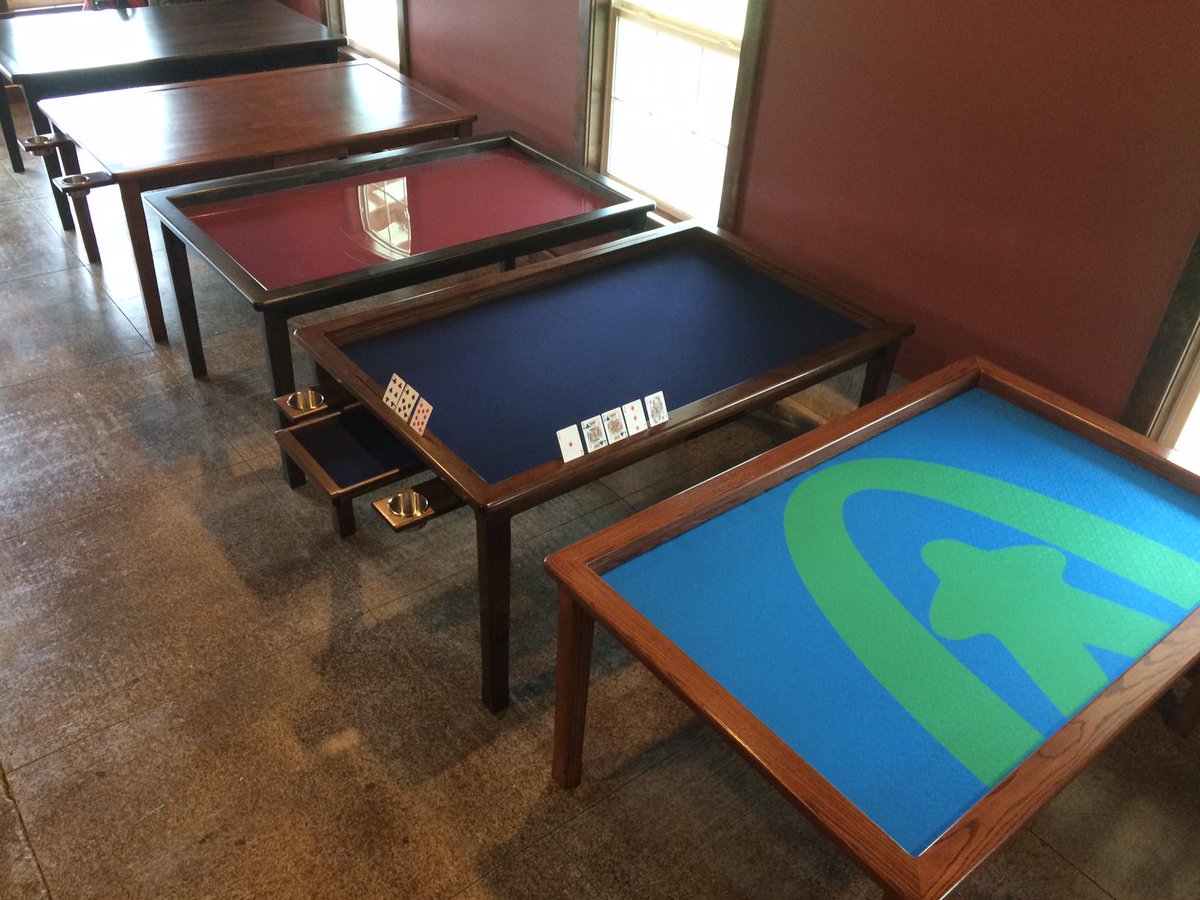 www.boardgametables.com
After wandering round for a bit I found a couple guys from our local Jefferson City game group, Mike and Jonathon. We sat down to play a game of Roll for the Galaxy. I am not a fan of Race for the Galaxy, but my one abbreviated previous play of Roll led me to believe that I would enjoy it a bit more, and as a matter of fact, I do. It's still random with draws and you can still get hosed and your engince can suffer because of poor tile draws, but the way Race speeds up the game makes it feel less punishing and I like it for that. Jonathon ran away with this one, winning with 45 points, Mike was next with 35 and then myself pulling up the rear with 32 points. I dig it, and one of these plays I'll get everything figured out and win. That's a positive thing for me, I want to keep trying it out, whereas with Race, I really didn't feel the need to keep trying.
My brother in law Brad, his wife Kate and their 11 month old son Bennett showed up shortely after Roll for the Galaxy and they brought Gabby along with them. After getting everybody settled in their rooms and Gabby registered, sorry Brad and Kate, next year we'll pay attention to the times on the back of the awesome new tags. We all sat down and I taught them String Railways. I'm really not sure how everyone else felt about it, but I enjoyed it again this time just as much as the first play, but it may help a bit that I won.
So, at 10 pm my first volunteer shift came so I went and manned the play and win room for a couple hours. The first year I was at Geekway I didn't volunteer at all, since then I have made sure to at least do a couple shifts. The volunteers at Geekway allow the organizers time to tend to bigger issues and even get a little relaxation and gaming time in as they don't have to be checking out games at the library or manning the play and win area, so I figure in exchange for a weekend of gaming fun, the least I could do is try to relieve them of a bit of stress for a couple hours or so. Plus, this gives me some time to sit down and meet people as they come and go through the lines and check out their next games, maybe give them a bit of advice on a game they aren't familiar with or even guide them to their next game. If your local convention uses volunteers, give them an hour or two of your time if you can, I know they appreciate it. Plus, if your local convention is as cool as Geekway, you get some cool SWAG as well. For four hours volunteered I got a t-shirt and a $10 gift certificate to one of the vendors and local game shop, Game Night.
Play and Win room about 30 minutes after closing time.
After my shift, Gabby went back to the hotel room as she was worn out from playing Adventure Time Card Game with another girl who was hanging out in the play and win room for two hours, and I decided to wander the convention hall for a bit before heading to the room. I love walking the convention hall late at night, seeing what others are playing, the hall is cleared out most of the way and it's quiet so you can actually have a conversation with folks at a normal decibel level. During this walk was when I ran into Bill Corey for the first time. He was setting up and messing around with recording equipment in the main hall, I never did get to game with Bill during the convention but we ran into each other several times over the next 3 days or so. Bill always had a smile on his face and something to talk about, it was great to get to meet him and I can't wait to listen and hear his thoughts on his first Geekway experience. That ends the first night at Geekway to the West, Friday morning is going to come quickly with another volunteer shift at 10 am and Gabby participating in the PitchCar tournament without me.
Day 2 I'm not an early riser anyway, and even though I love gaming, it doesn't trump my need to sleep in a bit. So I crawled out of bed around 8:30, cleaned up, woke up Gabby and got her moving, just in time to meet Kate and Brad for a quick game of Dragon Slayer before my library hours and Gabby and Brad's PitchCar tournament. Dragon Slayer is a simple push your luck dice game where you are rolling your dice, trying to get the correct symbols to defeat the dragon. It's an okay game, nothing really new or interesting about it, but it definitely is a bit more interesting than Zombie Dice for your dice chucking games.
After two hours in the library, I went to check on Gabby, who didn't quite advance to the finals in the PitchCar event. I found her in the gaming hall playing Pepino the Clown with a couple of other kids so I went and found my group for my scheduled Thunder Alley game and they were setting up just a couple tables away from Gabby. I won't talk much about how to play Thunder Alley, as I covered that a few podcasts back, but I will say that this was one my most looked forward to scheduled events of Geekway this year, I just can't get enough racing. The first race we ran was a three player race on the Pyramid, a couple other folks had to cancel so it was just myself, Tom O'Neill and Chris(sorry I forgot to get your last name). I've said over the past couple months how much I love Thunder Alley and with three players the love is still strong. In the first race I got a bit aggressive and I kind of paid the price as Tom and Chris worked together a bit more and Tom ran away with this game, winning with 199 points with Chris a distant second at 177 and my aggressive self at 172. Second race, Matthieu joined us for some short track action that went a lot better for me. I ended up in second place, just 3 points out of first behind Chris who got the win with 151 points. Coming out of the final corner I made a solo move that moved me up a couple spots but just came up short when the final points were tallied. I really can't wait to play this some more, as I still have only raced two of the four possible tracks, I'm hoping that I can convince Gabby and Kerensa to learn this one and race a bit over the next couple months. Thank you Tom for organizing this, was a great time and glad I got to do some racing!!
After that final race, I grabbed Gabby and we headed back to the room to get a bit of food and see if she wanted to play something with me. After eating we headed to the library and grabbed Coconuts from the library and headed to the new Matterhorn Room and found Brad, Kate, Mike and Jonathon. Mike and Kate joined us and we flipped some coconuts. Such a fun game with great looking components even if you really don't' think the coconuts really look like coconuts.
We swapped out Coconuts for a two player game, Jaipur. I've been wanting to get Jaipur for awhile now and I figured we may as well try it while it was available in the library and I had Gabby's attention. Jaipur is a cool little two player only card game with set collection, hand management and a bit of trading. The two players are competing to be the best trader, you win that honor by being the first player to collect two seals of excellence, you do that by buying, exchanging and selling goods at better prices than your opponent. On a player's turn you can either sell cards or take cards. When you take cards you have to choose between taking all the camels in the trade row, taking one card from the market or swapping 2-5 cards between the market and your hand. The camels can count as cards to exchange as well. If you sell goods, only one good type can be sold per turn. You receive in return as many chips as goods you sold. The chips decrease in value as the game progresses so you need to sell early to get the most valuable chips. A round ends when four of the goods token stacks are depleted. You total up the points on your chips, including the five point chip for having the most camels in your collection and the player with the higher point total receives the Seal of Excellence. Winner of the game is the first player to collect two Seals. Gabby beat me, no other way to put it, although our third round was a lot closer than the previous two. This is one that will also be added to our collection sooner than later. It's rules light, but lots of fun choices to be made over the half hour or so it takes to play. After this, Gabby was a bit upset that we had forgotten to bring swim suits, so I tried to cheer her up with many games of Tumblin' Dice and she definitely took out her frustration on me by winning four of our six plays and then promptly asked for a copy of it. I guess I know what I am getting once it hits retail again, as I didn't back it on Kickstarter.
Jaipur with Gabby
After all that, Kerensa and our five year old AnnaBeth showed up so we got them unpacked and into the room, ate a bit of food and got Kerensa registered and then we bided our time wandering around and chit chatting until the time came for the World Famous Geekway Battling Tops tournament. For this part, we're going to switch voices and let Kerensa have the honor of telling the story of the spectacle that is Battling Tops.
Kerensa:
Hi Brandon, husband & fellow Geekway to the West, 2015, Battling Tops competitor. Good day WDYPTWPT listeners and readers. Brandon, you encouraged more trash talk next year so I'm going to practice during the podcast. Thanks for informing me there were still open slots in the competition and suggesting I sign up.
As I marched up to the registration table, I must admit thinking, Chris Darden, you know how to rock a referee uniform. There I met Ethyl. Erratic Ethyl to be precise. She was small, lightweight, and somewhere between orange and yellow in color.
Erratic Ethyl
As a child, I spent many summers with my cousin Jennifer, wandering the land between our grandparent's farm and the home of my Aunt Ethyl, who was also small, similar in color due to excessive sun exposure, although not at all erratic. Still I thought it was a sign, ending up with this tiny top named after a family member.
Let me pause to thank Charles Hasegawa for the tasty glass of encouragement.
As the crowd dispersed to their designated table, I found myself group with several other battling ladies. We discussed methods for properly winding our tops and placing them in the ring. To the lady on my left who was so friendly, thank you for your patience, in all the excitement, I forgot you name.
As we set up, I struggled to decide if I should pull Ethyl's trigger over or underhanded. I chose the latter and though I came in second or "first place loser" I stuck with my decision to play underhanded. Please note that was just my trigger finger, not my strategy.
In that first round, I saw tops bump each other, knock each other out of the ring, sometimes completely off the table, tip over, right themselves and strings detach from the trigger ring. I believe we had a few draws as well. The end of the first bracket sent our youngest player on round two and me in to the loser's bracket. I've never played battling tops, so I figured this was bracket of its own. Lucky for me and Ethyl, we still had a chance.
In the second round, we were pitted against 3 boys. Those of you listening may not realize that like Ethyl, I am small in stature. A mere 4'11" and shrinking but my grandpa used to call me "Powerful Katrina" and his words rang in my ears as Ethyl and I kicked one gentleman's ass after another.
Thanks here go to Chris Neff, 2011 Spin Top world champion who suggested "lots of snap" for long lasting tiny top spinning. Ethyl and I advanced to round 3. More boys, more ass-kicking. I just forgot to take names so I am unable to properly publicly humiliate. Next year I'll be more prepared. In the final round, I must admit, I was nervous. I'm a good sport on the outside but I detest hanging my head in shame, which is apparently a time honored tradition at Geekway.
Jon, my opponent, stood opposite me in the finals. He was polite but I could sense his fierce need to win for all the same reasons I needed to win. Honestly the first few face-offs are a blur. Neither of us made much eye contact. On lookers cheered, chanted, heckled in the background. I was starting to sweat but refused to remove my jacket for fear that it might be holding in my luck. One lady shout, "go lady who looks like a stage hand," breaking the tension a little.
Special thanks to the young girl at the end the table, Jay's daughter, she kept saying "come on Ethyl, you can do it." At one point Ethyl emerged so fierce, she split Jon's top in two, the Center disc flew past my shoulder, the spinning center lay in the middle of the ring as Ethyl mocked it in smooth circles. The man who had previous declared himself "my talent agent" handed Jon the disc stating, "I believe this is yours."
In the end, it was 2 all. We set up for the last battle, our tops spun, danced and dropped. Dramatic pause… The ref declared, "to close to call, do it again." Instant relief and stress hit at the same time. I wound Ethyl one more time, placed her in the ring and pulled the trigger on go.
Our tops spun, bumped, circled the outside, then the inside of the ring. They both tipped on their sides, stood up again, taunting each other. Come on Ethyl, stay up, you can do it. I held my breath and clenced my fists, gritted my teeth. It was all up to her and just just kept spinning. Jon's top went down and she just kept spinning, oblivious.
My eyes went wide. I heard the cheers, Ethyl, Ethyl, Ethyl. I plucked her from the ring as the tiny top in my stomach continued to swirl with joy. My hand was thrust in the air by the ref.
I shook my opponent's hand thanking him for a great match. I don't remember if he hung his head in shame but it doesn't matter. Victory was mine, thanks to Ethyl. We posed together for a few pictures. I look forward to seeing her next year, not mention my champion face on a poster. You can call me Short Stack.
I didn't get to play as many games as I wanted this year but I it was a blast. The Battling Tops competition was undoubtedly my favorite event for obvious reasons.
The comments I've read on twitter about this competition being so family friendly are true. Jay, Chris, Kristen, Matt, Marshall, mad props to you, all the planners, volunteers, attendees, vendors and hotel staff. Not many people understand what it takes to organize a conference of this size that runs so smooth. Thank you again to everyone who cheered us on. Thanks you Brandon, for discovering such a superb hobby. You'll never be bored gaming when you're board gaming.
2015 Geekway Battling Tops Champion
Day 3 Day three started out pretty slowly, we were all recovering a bit from the big previous night and got a bit of a late start. As I have mentioned before, I am the Missouri Ambassador for Double Exposure, a group that demoes games for companies all over the country. I wasn't demoing anything this weekend but I thought I should sit in and help out Vinnie if he needed a hand running the Game of 49 and Diamonds tournaments. Turns out he didn't need any help but I did stick around and watch him run the Game of 49 tournament just so I could have an idea of how he ran them. While we did that, the girls and I played a few different small dexterity and lightweight games. Everything from Riff Raff, PitchCar, Wordarrific, Tumblin' Dice and even Chef Cuckoo made an appearance. After we left there we went back to the room and Kerensa and Brad went and picked up lunch at Fuzzy's Tacos. I believe that Fuzzy's is new to the Westport area and was a welcome arrival as the tacos were really pretty good and quite affordable. I'm still drinking my water out of my Fuzzy's cup, just as I did the rest of the weekend after we ate there.
Courtesy of Marshall Jansen
After Fuzzy's we went back the gaming area and I taught everyone Diamonds as there was a tournament coming up and I thought maybe a couple people would want to enter the tournament, but only Gabby did. Brad ended up winning our 4 player game of Diamonds, pretty good for a game that he doesn't really enjoy all that much. After we played, we vacated the room and the Diamonds tournament commenced. She did pretty well in the tournament being her first try at it, finishing 2nd, 2nd and 3rd in her three matches, but alas did not advance to the finals. But she had a good time and enjoyed playing it.
While that was going on, Brad and I sat outside the tournament room and started to set up a game of St. Petersburg, we'd just gotten through our first buying phase and Charles and Robert came by, Charles then began talking about how horribly broken the game was and explaining it in great detail. Seems he's had the game ruined for him via the online play on yucata.de. We are currently in an online game of it as well where him and Robert are showing me the ropes. After hearing him talk about it, we packed up the game and picked up something a bit more light and fun, RattleBones, which turned out to be one of the better games of the weekend and definitely one that I want to add to the collection. For sure it's a bit fiddly with all it's pieces but I think the game trumps it's fiddliness with fun. I really enjoyed our play of this one.
After that we went back to the hotel room and we ordered some pizza that took entirely too long to get to us. At this point I'm getting a bit flustered with AnnaBeth, she's bounding over everything and bouncing off the walls, which is partially my fault for allowing the sugar intake that she took in this weekend. After eating pizza Kerensa and I go back to the hotel room with the girls, after getting them settled, Gabby and I went out to find a couple games. I found Mike and Jonathan along with Jonathan's uncle and a friend of Mike's, Matthew. We were playing over in the Matterhorn room and broke out an oldie in Bang!. I've never played the card game, only the dice game, but this one was fun and it was relatively quick, I'd always heard rumors that games of Bang! last longer than they should, but this one didn't, but I lost as the sheriff quite horribly. Then we set up a game of King of New York but about halfway through this one, we could tell that Gabby wasn't going to make it so I walked her down the hall to the room and then went back and finished up KoNY. This one DID overstay it's welcome as most of us were eliminated fairly quickly but Jonathon and his uncle battled it out for a bit longer than they really should have, but it's still a fun game, although I think I'd prefer to play King of Tokyo.
We wrapped up the night with another game of Roll for the Galaxy in which once again I couldn't get anything going and myself and Paul finished tied for last place with 15 points and Jonathon and Mike ended up tied for first place with 27 points. I'm going to blame the beer for this poor showing though, not the dice or my horrible strategy.
That wrapped up Day 3, a pretty calm day that really didn't have a whole lot of games played, but it was a bit more than the day to come, but to be fair, Day 4 is really only a half day for us anyway.
Day 4 This is always my least favorite part of vacations, packing up the hotel room and getting everything to the cars and checking out. We live in hotels like we live at home, we make ourselves comfortable and bring entirely too much stuff. But after all that was done, it was about noon and time to eat lunch so we rambled over to St. Louis Bread and had some soup and mac n cheese by the fountain and enjoyed the outside for a bit.
Gabby
AnnaBeth
We came back in and found Brad and Kate playing Boss Monster but they had Colt Express sitting next to them, so I broke it out and learned it and then Kerensa, Gabby and I played a game. Colt Express is a programmed action game, where you play your actions to a central stack of cards and then after the given amount of cards are played, you play out the actions as you have played. It can lead to some really random things happening as you don't always know what your opponents are going to play. I liked it, but I don't know about Gabby and Kerensa, so I don't know if it's something that I'd add to our collection. It really does have a nice table presence with the train cars sat out and the extra cacti and such really make it look cool.
Colt Express and AnnaBeth
After that was time for our final game of the convention River Dragons. We played a 5 player game of this, it was a bit sporadic as we were wrangling an almost 1 year old and trying to keep a 5 year old entertained as well. I've played this one once before at our local meetup, but Brad and Kate had not and they decided to pick this up to play after playing it one time previous in the weekend. River Dragons is a race to get to your color assigned spot on another spot on the board by placing rocks and building bridges. Each player has 6 different sized planks to use as bridge pieces and they play them out in order to build their route. The game is also another programmed movement game so lots of things can change from the time you play your first card to the last card. Glad to have this one around to play as I enjoy it quite a bit.
River Dragons
By the time we finished that, the drawings for the plan and win games were over and it was time for us to pack it all up and head home. I always wish the convention would last longer, but I don't know if I'd really have the energy to do much more, and I always forget to schedule to have off the day after like a dolt. I will say this, I've never had a case of "Con Crud" after Geekway and this year was no different, sure I was tired and worn out, but I wasn't sick and I don't think Kerensa or the girls were either. Which is good as Gabby had her final 3 days of the school year still to go to.
To be completely fair, I haven't been to too many gaming conventions. I've been to one GenCon and a couple smaller conventions that really may not qualify as a convention as much as a gathering. But I don't feel the need to, I've got Geekway once a year. I can't for the life of me imagine any convention with 1400 people being ran any better, or more accommodating than Geekway is, it seems to me to be the perfect convention for everyone. So a huge thanks to all the folks who put this together, we all appreciate the work you all put in into making this the best convention you can. And also a huge thanks to all the other attendees, I am always impressed with the friendliness that everyone displays, I wish I could game with each and every one of you at some point. There are some folks that I wanted to meet that I didn't get to, Kirk, Toby, Jason and several others were on my list of people to say hi to that I never got a chance to. Rhiannon Ochs came all the way in from out east in New Hampshire I believe and while I got to say hi to her a couple times, I never got to sit down and chit chat with her nor did I get a chance to have her kick my butt in Panamax, but hey, hopefully there is always next year! I really hope everyone can kind of see why Geekway is turning into one of the go to conventions in Gaming, this year was sold out and I believe for the first time they weren't allowing walk ups to purchase tickets. Next year is in the same place so I imagine we'll still have only the 1400 tickets or so available, but after next year I'm interested in seeing just what happens. After talking to a couple folks a move from the current venue to find a bigger one would be a huge jump, from 1400 capacity to 5000 or so I think is what I was hearing, plus I imagine a move like that requires moving into St. Louis city proper from the suburbs. But I think it's a good problem for the organizers to have and I have the utmost confidence that if any convention is able to grow and keep the family and gaming friendly atmosphere the same, the folks at Geekway can do that. So thanks to all the organizers, Matt Becker, Aaron Belmer, Jillian Berger, Chris Darden, Kristin Darden, Matt Dimmic, Mark Finefield, Joe Henderson, Jeff Hiatt, Timothy Hunt, Christy Jansen, Marshall Jansen, Kathleen Mercury, Jay Moore, Sarah Moore, Todd Reed, Chris Schottand Mark Sellmeyer. I tried to thank as many of you as I could at the convention, but I know I didn't get you all, so thank you, we'll see you all next year!!
Some Podcast links:
http://www.geekwaytothewest.com/
http://www.castleproductions.co/home.html
https://www.facebook.com/greatdebategame
http://www.thecubistpodcast.com/